To all who loved Paul
There will be a gathering this summer in his memory. If you are interested in attending or just learning more about it, you can write and ask at memorial@musick8.com Please feel free to share this information with anyone you know who might also be interested.
Popular Features

Buy individual songs from Music K-8 magazine. 1500+ to choose from.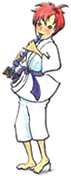 Students, practice recorder online. Teachers, find ideas and downloads for Recorder Karate.