The Recorder Store
---
Downloadable / Fillable Certificates
These downloadable/fillable reward certificates allow one teacher unlimited use of the certificate with as many students as you teach.
Personalize the award with a student's name, achievement, date, and your signature on the interactive PDF. Then print, e-mail, or upload to Google Classroom or any online learning platform you are using to deliver it to your student to print or enjoy electronically. It's the perfect way to reward your students!
---
Recorder Singles
---
---
Recorder BYTES
Recorder Bytes utilize interactive, projectable PDFs with embedded audio that help teach music your students are learning by using a controlled, methodical approach, all while keeping it fun for them. Use them as a stand alone teaching resource, or in tandem with popular methods like Recorder Karate 1 and Recorder Karate 2.
Recorder Karate Extension


arranged by Paul Jennings
Volume 2 - Blue through Black Belts
Supplemental and Sequential New Music For Barb Philipak's Highly Motivational Method
Arranged and orchestrated by Paul Jennings, these creative settings give you music that can replace existing selections, add new reinforcement offerings, and even give you music that can be used for new rewards beyond the original nine. This collection also gives you a natural bridge into Recorder Karate 2. And the songs are arranged for easy testing.
Downloadable Digital Files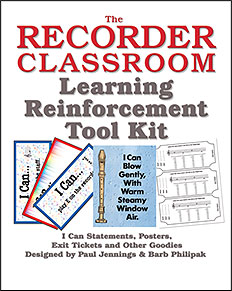 A downloadable resource featuring dozens of I Can statements, Exit Tickets, Posters, and Fingering Charts that cover all of the notes and learning concepts covered in many recorder methods currently in use, including Recorder Karate.